Hallo zusammen,
da ich im meiner Installation Probleme habe alle Steller zu erreichen, interessiert mich die Lösung CC1101 mit CC1190. In der conf Datei ist eine entsprechende Rubrik ja bereits enthalten.
Hat das jemand schon am laufen?
Mir stellen sich ein paar Fragen zum Anschluss:
Hier ein paar Auszüge aus dem Datenblatt des CC1190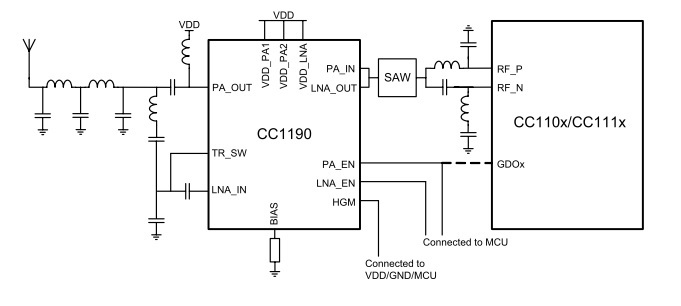 Die .conf Datei
[code]### Additional TI CC1190 Config ###
The GPIO high gain mode of the CC1190 is connected to.
Default: -1 (disabled)
#gpio2 = 5
The hexadecimal value for the PATABLE of the TI CC1101.
Default:
- Without high gain mode: 0xC2
- With high gain mode: 0x27 (maximum legally allowed setting)[/code]

Laut Datenblatt kann man den High Gain Mode (HGM) fest auf 1 setzen. Dann wäre der Anschluss schon mal klar.
PA_EN und LNA_EN müssen allerdings getoggelt werden.
Laut Schaltbild, nehme ich an, dass der GDO am CC1101 parallel am PA_EN benutzt werden kann. Demnach muss der zweite GPIO (gpio2)aus der .conf Datei mit LNA_EN verbunden werden.
Könnte mir das jemand bestätigen, bevor ich das Modul schrotte?
Beste Grüße / Zennix